From 12-16 December 2016, I had the pleasure of attending the joint conference of the New Zealand Society of Soil Science and Soil Science Australia. The conference was held in one of the most iconic places of New Zealand: the scenic resort town of Queenstown in the South Island. The overarching theme of the conference was 'Soil, a Balancing Act Down-under' to glance the torch light onto the challenges in managing soils to reach a careful balance between many, often competing, land-use, productivity and environmental aspirations. I report on some of my observations from this interesting conference.
The general schedule of the conference was fieldtrips on day 1, followed by days 2, 3, 4, and half of 5 as normal conference proceedings consisting of keynotes, plenaries, and research presentations (both oral and posters). Some social functions were organised which included a BBQ at the end of day 1, a touch football competition (day 3), and conference dinner (day 4). The conference was situated at the Millennium Hotel, which is more-or-less central Queenstown. I arrived in New Zealand of the 11th December with a few colleagues, and departed for return to Sydney just after lunch on the 16th.
1. Conference fieldtrip
---
First day of the conference was dedicated to a fieldtrip. There were two options for fieldtrips, and I went on the one that went through the Central Otago area. Most of my work colleagues were on this trip too.
Essentially the trip was a loop of the area to the east and north east of Queenstown. Pretty much after departing Queenstown and heading directly east we headed to the Crown Range Road Summit which is at 1119m elevation. The route to the summit was very steep and winding. Upon disembarking from the bus we were greeted with exceedingly chilly winds and the odd flake of snow. We were also greeted by tour leader Sam Carrick (Landcare Research) who introduced us to a freshly prepared Acidic Brown Soil - largely a silty soil with an abundance of Schist rocks of various size. This particular landscape is an example of New Zealand's high country of which is mainly dedicated to pastoral farming. Tourism is also big in this type of landscape too. The combined pressures of farming and tourism makes management of these delicate landscapes a tricky task as they are both culturally and environmentally significant, yet also are a source of significant dollars in terms of the pastoral outputs and their tourism potential. Similar mindful approaches the land management are common elsewhere where competing and multipurpose land uses are in play. After spending around 20mins at this stop, most people were clamouring to get back onto the buses for the next item of the itinerary due to the near freezing temperature.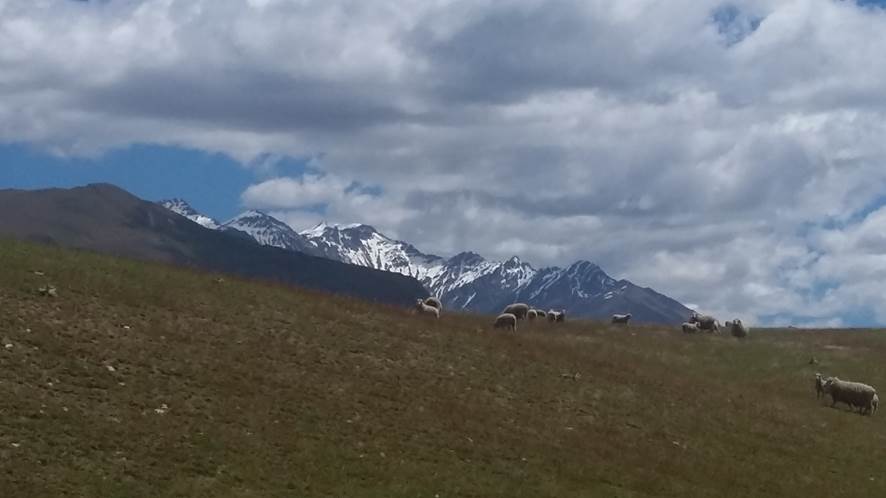 The second stop was Mt Burke Station which is farmed by Tim Burdon with farm manager Grant Ruddenklau. Mt Burke Station covers approx. 10 000ha and is situated on the shores of Lake Wanaka. There are mixed land uses here with significant numbers of stock that include sheep, cattle (beef), and deer. Some cropping enterprises include Canola, Swedes, Turnips, and fodder beet. We were here to discuss in person some of the land management issues facing farming in high country pastoral stations. Mt Burke is typical of many high country stations in the lakes catchments. It has hundreds of streams flowing through the property and shallow stony soils that present challenges for water quality and nutrient management, and it also has the vast challenge of having an open lake frontage. Having this lake frontage (Lake Wanaka) leads to higher scrutiny from Government in how the land is managed, and how and to what extent nutrients are used and applied. In fact very stringent monitoring and reporting of nutrient use is the norm on this station (and elsewhere). Also having the lake frontage exposes the farm managers to greater scrutiny from the public who are naturally concerned and oftentimes vocal about the maintenance of a pristine environment. According to the farm managers, sometimes this scrutiny is mis-guided, leading to negative perceptions of agricultural land management in this delicate landscape. From what I could tell though, with government policy in place and stringent monitoring, coupled with a team of knowledgeable land managers, Mt Burke station is doing well and operating well. After having lunch on the shore of Lake Wanaka, Sam Carrick showed us a nice example of soils on this station, where we were introduced to a stunning Stoney Brown soil. There are so many knowledge gaps in understanding these soils, particularly how they respond to the intensification of agriculture. Part of this knowledge gap is trying to understand how nutrients are stored and flow through them, and measuring their water storage capacity.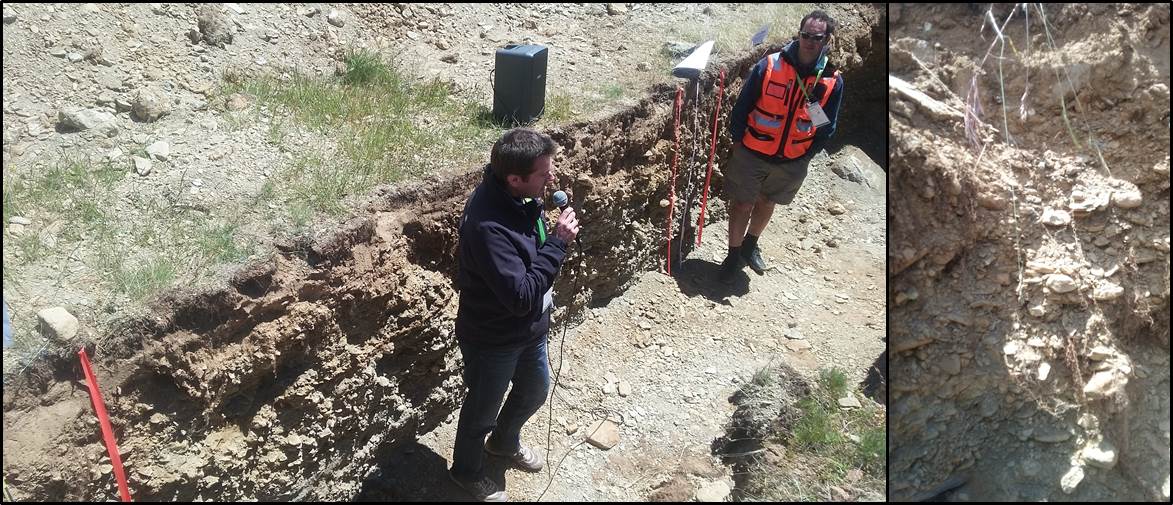 The third stop before journeying back to Queenstown was to meet local viticulturist Roger Gibson to talk about horticulture in the central Otago environment. We were specifically located in the Cromwell area which is situated about 50kms due east of Queenstown. What really struck me about this area was how dry the environment was. In fact the area is classified as semi-arid where it receives less than 500mm of rainfall annually. The cool environment coupled with low rainfall, and pretty good soils makes this area quite a famous viticultural region. Roger Gibson manages the award winning Lowburn Ferry wine brand and gave us an excellent talk about the history of the wine industry in this region, and the associated management considerations for producing high quality wines. We were also treated to a delicious Otago Pinot Noir while listening to Roger and taking in the astounding surrounding landscape. We then got the opportunity to meet another great soil which reminded me of something I would see in Australia. This was an apparently weathered soil with a clay pan and a clear presence of pedogentic carbonate materials. The source of pedogenic carbonates is debated, but is probably due to the combination of mineral weathering and microbial action. Coupled with the semi-arid environment, leaching of carbonates would be minimal, leading to an accumulation and precipitation within the soil profile. Sam Carrick mentioned that from dating experiments upon these soils, it is estimated to be around 400 000 years old. Compared to Australian soils, this is relatively young, but by New Zealand standards these are quite old soils. I was fascinated by this stop because I did not expect to experience a semi-arid environment in this part of the world, and to come upon a soil that was so apparently weathered.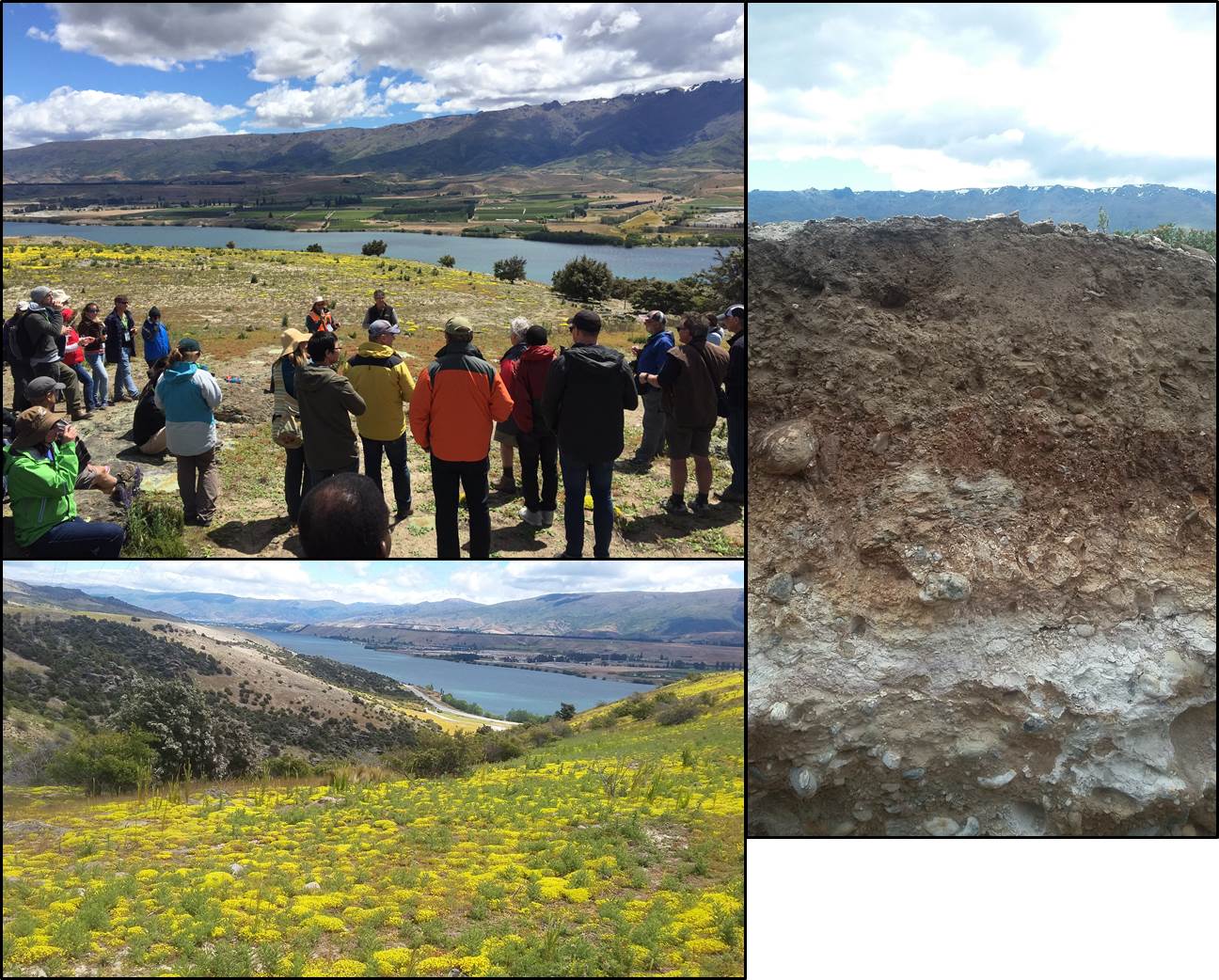 In summing up, the Otago fieldtrip was a memorable one. I was beguiled by the landscape and terrain we passed through from stop to stop. I was equally impressed by the variety of soils we experienced too. Sam Carrick's knowledge of the environment and the issues faced with managing it was extensive and augmented the day very nicely. After gettting back into Queenstown in the early evening, everyone headed to the pre-conference BBQ where everyone got a chance to catch up and put away a tasty feed and a few quenching ales. The conference BBQ was also where the winners of the soil judging contest were announced. The gong was taken out by a travelling USA team. Second place was taken out by a team from Queensland, and the third place was taken out by our very own University of Sydney Team. Or thats how i interpretted the outcome as it seemed every team got an award somehow.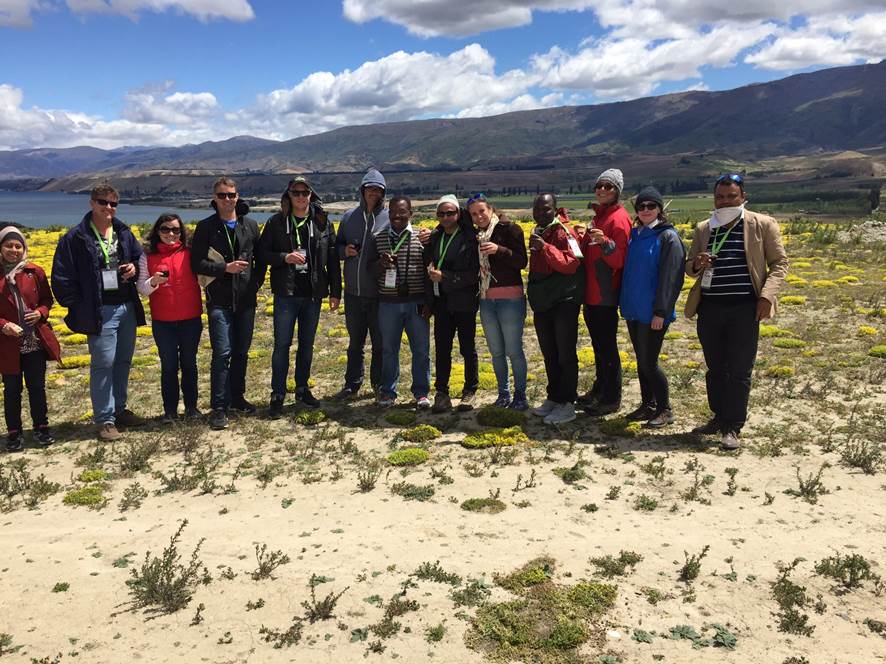 2. Normal conference proceedings
---
The format for the four days of conference proceedings were morning keynotes and plenaries to the whole delegation. This was followed by four parallel sessions. I attended a diversity of talks.
The afternoon of the first day I spent most of my time in the pedology, soil landscapes and mapping session. Assoc Prof. Stephen Cattle expertly chaired the first session of the topic, and I was greatly thrilled by diversity of talks. Talks ranged from traditional pedological discussions through to digital soil mapping and informatic presentations. For example from Richard Greene (ANU) about the characteristics of Aeolian accession on soils in the Yass Valley, NSW. Then we were introduced to some innovative digital soil mapping approaches to soil carbon (Sanjee Dwage) and soil moisture (Tom Bishop). Uta Stockmann and Pierre Roudier provided some interesting presentations about use infrared spectroscopy for estimation of soil properties. Pierre's work on digital morphometric analysis of soil profile imagery was exceptional. I really think quality imagery of soil profiles could be considered an art form. Pierre's work demonstrated some tools for visualisation and quantitative analysis of these images.
Late in the afternoon I attended the session called Improved Decision Making. A colleague of mine Ed Jones was presenting in this session where he was elaborating on the design of a soil spectral inference system. In this session I was also fascinated to see the talk from the NSW Govt (Greg Chapman) regarding soil capability prediction throughout the state. I was encouraged to see some adoption of digital technologies in their process. Being in this session from go to end meant I was unable to attend to parallel session on soil carbon where there looked to be some really interesting talks. But at least I have the full handbook of abstracts of all talks presented at this conference to read up on later.
The morning of second day I spent in the second session of the pedology, soil landscapes and mapping session. Colleague Philip Hughes gave a lively presentation about comparing taxonomic similarities between the Australian and USA soil classification systems. I think this type of analysis is critical if the soil science domain is to offer up to the general science community a universal classification system, rather than fragmented systems established by individual organisations and countries. My other colleague Stephen Cattle presented something of a pet topic for him on whether 'parna' - dust derived clay aggregations - existed. Using some micromorphological analyses, Stephen was able to demonstrate that silt-size aggregations of clay did exist in soils where Aeolian accession had occurred upon them. This talk was followed up by Carol Smith (Lincoln University) who gave us an excellent discussion of Aeolian derived soils in New Zealand. I was really fascinated by her use of the QEMSCAN for discrimination of minerals within an albeit small sample. QEMSCAN employs a scanning electron microscope, four X-ray detectors and a software package to enables rapid discrimination of minerals, without reliance on visual judgments. This technology is something I should follow up on as it seems pretty useful. Other talks in this session ranged from digital soil mapping (Sharn Hainsworth, Jon Gray), to farm scale soil mapping - where Alan Palmer highlighted the inefficiencies of applying legacy soil survey mapping for farm scale applications. Marta Camps Arbestian gave a really nice presentation of soil geochemistry and its use in devising a new model of soil formation (need to read the abstract on this one).
A benefit of the parallel sessions being in such close proximity to each other, meant it was pretty easy to jump from session to session. This is what I did during the second afternoon where I jumped between the 3 sessions on offer: Laboratory and Rapid Testing (Galaxy 1), session 3 of pedology (Galaxy 2), and Balanced solutions farm systems and catchments (Galaxy 3). Again the breadth of presentations in the pedology session was remarkable. Bernard Walker (UTAS) presented some of his Honours research about assessing the likely provenance of E Horizons on some soils in Tasmania. For such a fresh young researcher, this was really quality research and more-or-less very thorough detective work. Colleague Stacey Paterson gave a nice presentation on soil variability analysis of soil texture at the continental scale (Australia) using a geostatistical and fractal approach. Then there were a couple of talks from QLD Govt, where I was encouraged by their application of digital approaches for soil mapping. Lauren O'Brien presented some excellent work using disaggregation methods, similar to the DSMART approach, for identifying subsoil constraints. USYD Alumni, Luke Finn also presented in digital soil erodibility mapping in the QLD Fitzroy basin. In Galaxy 3, Darren Kidd presented on a practical approach to quantifying soil security. As a concept, soil security works well for highlighting the importance of soil, and for communicating soil science to the non-soil science community. Trying to quantify the different dimensions of soil security through a digital soil mapping approach is pretty ambitious, but I think Darren communicated quite well the different things that were and could be considered. For example, how do we quantify the cultural value of soils? With some ingenuity and accessing what appear to be excellent GIS facilities within the Tasmanian Govt, they were able to link tourism activity to cultural value. I acknowledge that Darren's work was a first step in the quantification thing, but at a least it got the cogs turning in how we can develop the concept further and deeper. The last two talks in Galaxy 1 were of interest to me. Les Janik (CSIRO) gave an excellent presentation on the comparative performance of different portable infrared sensors for predicting soil properties in the field. I was really encouraged to hear that the Spectral Evolution vis-NIR was one if not the best performing of the different instruments. Colleague Mario Fajardo pretty much floored the room with an excellent presentation on an App he created that measures soil aggregate stability. The amount of tech savviness and code underlying this App will probably never be appreciated, but this sort of technology gives a glimpse on where soil measurement approaches are headed in the coming years. For his efforts he was ultimately awarded the Bouma Award for best presentation of the conference. Ripper stuff Mario!
Day three meant it was now time for me give my own presentation on work that I had been doing in the past year in terms of spatial downscaling for soil carbon auditing. But before this I attended the Keynote and Plenary session first up in the morning. Without commenting too much about the talk from Julian Cribb, I am always upset by people presenting doomsday predictions of the world future. Julian expertly does this, but I do not think it is entirely useful, and if anything, may cause undue alarm. Sure humans have done severe damage to the earth system, but I think there is a resilient and adaptive quality to these that are often not acknowledged or under appreciated. I acknowledge human behaviour needs to change in order to better manage environmental systems, but it all comes down to education and not frightening the bejesus out of people about predictions of where we are headed. That is my little rant over, but my mood lifted significantly with the following three Plenary talks. A nice heart-warming and inspiring presentation from Alison Collins (Landcare Research) talk about the importance of soil and keeping an eye on it for the future. I liked how Alison used imagery of her young family to highlight that how we manage soils now is of great importance for future generations. Francis Hoyle (UWA) gave us a challenging talk on the dynamic changes in soil carbon. Using research conducted by her group in West Australia, sequestering soil carbon is not a simple cut and dry approach. One needs to consider application rates of amendments in addition to the economic costs of application. Soil carbon sequestration seems possible with the right management practices, but they need to be nuanced and implemented over of a long period of time, are what I think was the ultimate message. Filling in for Sam Carrick, Alan Hewitt (Landcare Research) provided a presentation on the special soil wonders of the Otago basins. This talk augmented really well with what I experienced in the field during the Otago fieldtrip.
My presentation was allocated to the second session of the Improved Decision making session. I was amongst some good company including Peter Wilson (CSIRO) talking about soil data standards of which are necessary for harmonising disparate soil data sets. Peter Dahlhaus added to this concept with work in Victoria using soil data visualisations and analysis for monitoring the condition of soils. Colleague and PhD student Ronald Muchelo highlighted to the audience in his presentation how urban expansion in Uganda is leading to substantial losses of viable agricultural soils. The encroachment of urban development upon agricultural land is very familiar, particularly in Sydney, but it seems to be on a whole different level in Uganda though. Ronald in his talk demonstrated some the analyses he used for quantifying soils of which were based on digital soil mapping approaches of which I found to be really encouraging to see it being used for operational purposes.
With other prior commitments, I was unable to attend the rest of the Thursday conference proceedings. People whom I spoke with after though were really impressed with the panel discussion that occurred. Another notable conference functions that I have not detailed yet is the session dedicated to poster presentations. The poster session was on after lunch on the Wednesday, and provided an opportunity to walk about and look at all the posters of which there were many. Because of the arrangement of the venue, there were posters in all nooks and crannies about the place. This made getting to all posters a little difficult, but the experience was quite enjoyable and I was able to get round to most and have a few good discussions and catch-up moments with a number of people.
The last day of the conference was scheduled as a half-dayer. I admired the people who had to get up and present as I am sure there would have been a few sore heads amongst them, due to the raucous night that was the conference dinner. Highlights were presentations from colleagues and PhD students Patrick Filippi and Liana Johnson. Patrick presented on monitoring soil change in cotton field of western NSW, while Liana gave a nice presentation about heavy metal contamination of soils in the Sydney Basin. After the research presentations were completed the formalities of the conference were over. Just before this however, the Norman Taylor Memorial Lecture was given by Louis Schipper. Norman Taylor has left a huge legacy upon soil science in New Zealand from what I have read, and I think Louis, more-or-less giving a rundown of the research that comes out of the group at the University of Waikato, gave an excellent taste of soil science research in New Zealand. I was fascinated to hear about their research on soil carbon and nitrogen dynamics, of which has inspired me to follow up more deeply on their excellent research in this field. With the lecture over, the official closing ceremony happened, which included some award giving and awkward thank you and well wishes from committee members of the New Zealand and Australian soil science societies. All in all, I got a lot out the formal part of the conference. It is unfortunate I was unable to catch all that was presented, but I walk away satisfied with what I had taken in.
3. Social functions
---
A number of social functions were dotted through the conference. As already mentioned there was the welcome BBQ on the Monday after the fieldtrips. On the Tuesday, I attended the Soil Science Australia AGM. Here we were introduced to the newly elected Federal Council. The new Council could best be described as youthful, and consists of John Bennett (President, USQ), Dan Brough (Vice President, QLD Govt), and Zoe Reed (Treasurer, ANU). The departure of several key members of the Federal Council, particularly of Executive officer Linda Bennison, leave some considerablly big shoes to fill for the future direction of the society. But the youthful team leading the society now will surely push it to new and unimagined places. I look forward to see where we are headed.
Probably one of the highlights for the conference for me was an organised touch football competition that was held at the end of proceedings on the Wednesday. The concept of having a sporting context amongst colleagues and delegates is a stroke of brilliance. I think there were enough players to fill six teams. There was a USYD team (with a couple of drifters), plus a couple of QLD teams and other teams from NZ. There was even a crowd of onlookers taking in the spectacle. I don't think any team was crowned a the ultimate victor, but it was just good all round fun and a chance to blow some steam off. I guess the pinnacle of the competition was a super match between Australia and New Zealand which abruptly ended when one of the Australian players from Queensland (sorry don't know his name) dislocated his shoulder whilst scoring a try. This was obviously terrible news for the player injured, but as this was the only try scored in the match, Australia was the clear winner on the day. New Zealand will get the chance to atone in a rematch I guess at the next joint conference. It was much fun indeed.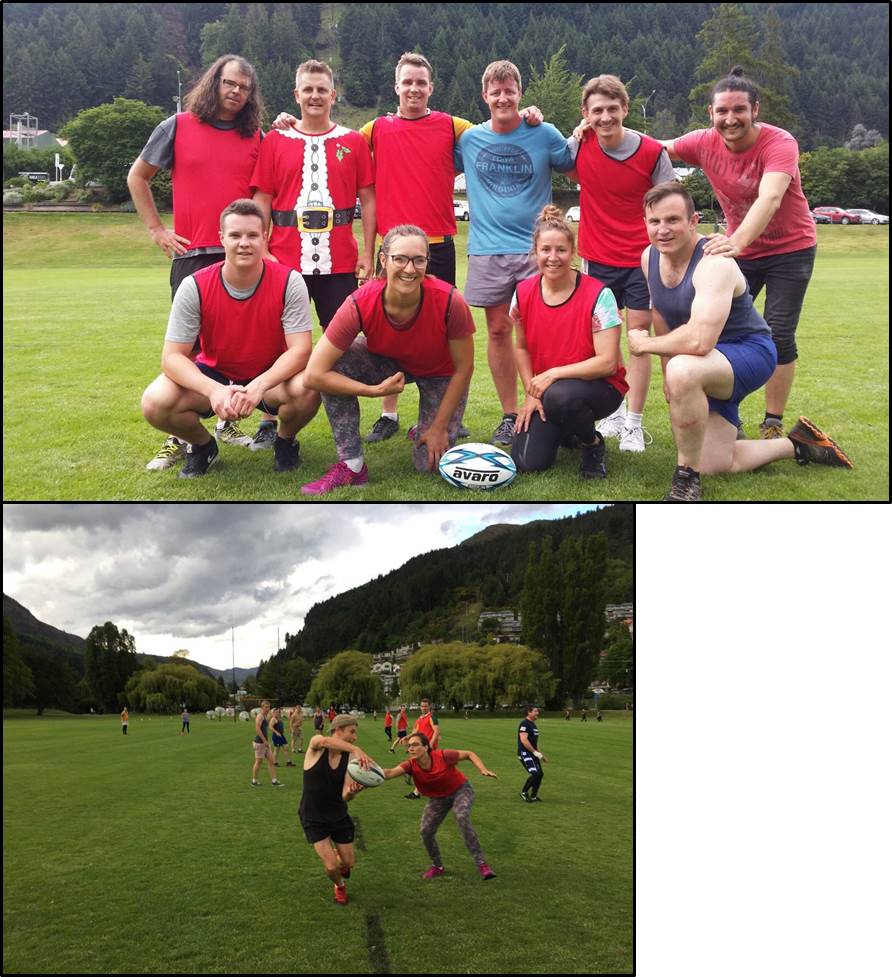 The conference dinner was located at Skyline Restaurant which overlooks the town of Queenstown from several hundred metres up. The only way to get here is via a very steep gondola ride, where once to the top we were greeted which exceptional views and plenty of free beverages! There was plenty of good spirits on the night amongst the formalities of award giving and presentations. Our own Alex McBratney was awarded a Fellowship to Soil Science Australia. Other Australian award winners included Bob Gilkes (Honary Life Member) and Jock Churchman (JK Taylor Gold Medal in Soil Science). A couple of the really exceptional awards for the night was the announcement of the winners of the individual prizes in the soil judging contest. I think someone from the University of Wisconsin came in third, but our own USYD stars Bruce Tran and Rebecca McGirr came in second and first respectively. This would have been a massive achievement for them, and I was so happy for them too. All in all, the conference dinner night was super fun and enjoyable, although the body was paying for it the next morning a little bit.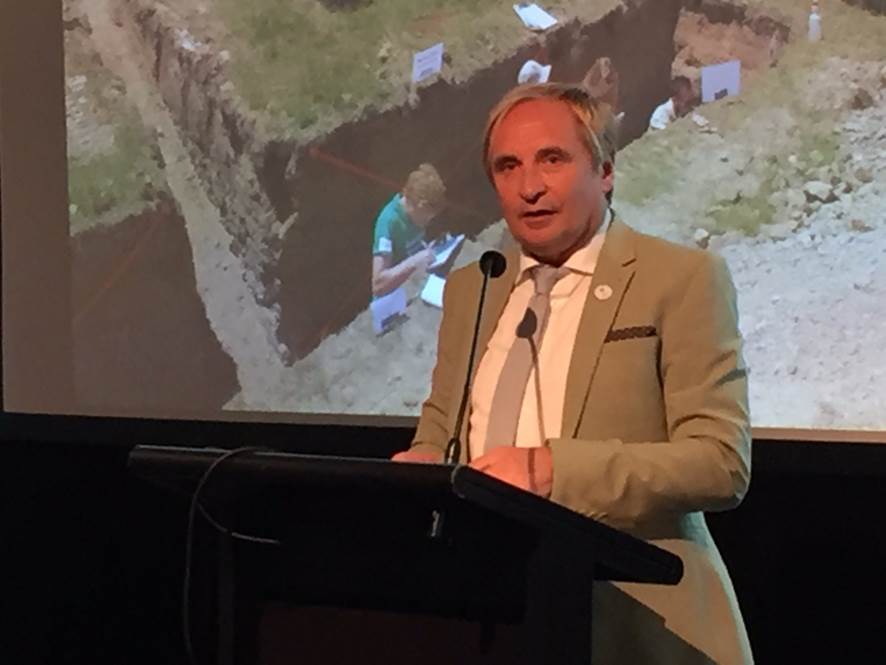 Final Points
Much thanks goes to the New Zealand Soil Science Society for putting on a fabulous conference. Although the weather was a bit fickle, and at times pretty unforgiving (especially in December), Queenstown and the surrounding area is a beautiful place of the world. I would love to come visit here again sometime.